Unlike fresh potatoes, canned potatoes are already cooked, so they can save your time for preparing and cooking. But using canned potatoes aren't still as popular as fresh potatoes. Therefore, the question today is if you have ever tried of recipes for potatoes recently? What recipes you've made and do you want to try another recipes for them? The tasty recipes to learn today are using canned potatoes.
Canned Potato Salad
Using canned potatoes becomes very convenient, when you don't have to spend much time or just in no mood for several hours of preparing and cooking in the kitchen. Why don't use this canned potato recipe? They require no peeling, slicing, and boiling. Especially, with this recipe, you wouldn't spend for over 10 minutes for a dish to be completed. No time consuming but still having a delicious meal. Give it a try to know how they turn out!
Ingredients
Canned whole potato – 2 cans (15 ounces)
Mayonnaise – ½ cup
Sweet pickle relish – ¼ cup
Mustard – 2 tablespoons
Diced celery – ½ cup
Diced red onion – ¼ cup
Diced green pepper – ¼ cup
Diced hard-boiled egg – 3
Salt – 1 teaspoon
Pepper – ½ teaspoon
Paprika for garnish
Instructions
Take the potatoes out of the cans, drain your potatoes and place them in a bowl.
Place all remaining ingredients including mayonnaise, sweet pickle relish, mustard, celery, onion, green pepper to the bowl.
Mix all the ingredients well together.
Season with salt and pepper, if you like paprika, just go with it.
Top the salad with eggs.
Easy Canned Potato Recipes For Breakfast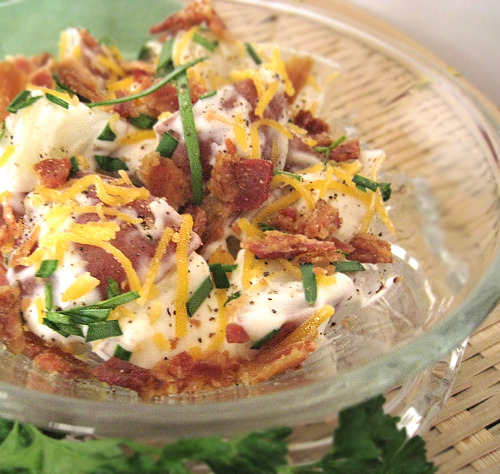 Canned potatoes are becoming popular choices among those who are often busy in the mornings but love eating potatoes. Because canned potatoes require no washing, no peeling and they are already cooked, you are allowed to have a delicious meal but not time-consuming preparation and it would be nicer if the recipe comes with short list of ingredients, so here is the one you may like.
Ingredients:
Canned potato – 1 (14 ½ ounces)
Egg – 2
Bacon – 4 slices
Butter – 2 tablespoons
Salt – ½ teaspoon
Pepper – 1/3 teaspoon
Chopped spring onion – several
Instructions:
If you use whole potatoes, you should drain your potatoes first, and then cut them into slices, put them in a bowl and set aside.
Break your eggs, place them in a bowl and whisk them well together, season with a bit of salt.
Heat your skillet to the medium high heat, add your butter, when it is heated.
Add your potatoes, season the potatoes with salt and pepper, because they are already cooked, they are easy to be cooked through, so it mightn't take you for over 10 minutes
Add your eggs to the skillet, cook it for several minutes, until the mixture is set.
Top the mixture with your slices of bacon and chopped spring onions.
Now it's time to serve.